Meridian™ Series Ice and Water Dispenser
Scotsman's Meridian™ lineup provides reliable dispensers that contribute to better efficiency, morale, comfort, and safety in a variety of settings, including healthcare, c-stores, restaurants, and hospitality environments. The Meridian™ lineup combines legendary reliability, time-saving serviceability, and convenient cleaning, making it optimized for today's fast-paced foodservice industry.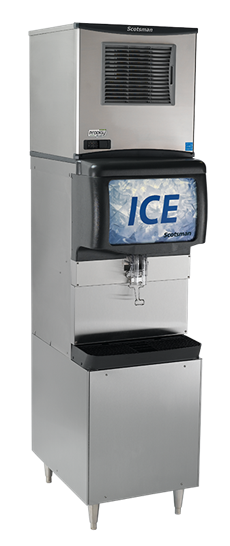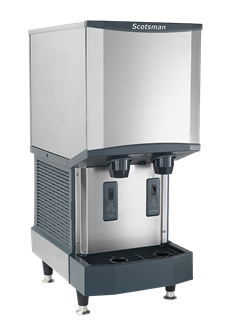 Nugget Ice Machines
Scotsman's nugget ice machines use advanced self-diagnostic Prodigy Plus® technology to deliver increased reliability and efficiency, using up to 40% less water and 15% less energy than cube ice machines. Scotsman's nugget ice has become the preferred ice choice for countless consumers and operators due to its soft, chewable form that absorbs the flavor of beverages. Operators appreciate the lower operating costs and higher liquid displacement, which lowers syrup costs per cup.
Extra low door sills allow users to easily reach ice at the bottom of the bin.
Heavy-duty support even heavy stacks of icemakers.
Non-CFC polyurethane foam insulation bonds shell and lining.
Fully replaceable gasket seals door opening to reduce meltage.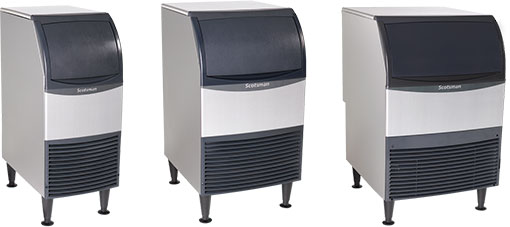 Ice Machines & Ice Bins
Scotsman is the ideal choice for ice, providing premium quality ice that is crystal clear, tasteless, and odorless. With their state-of-the-art ice machines, Scotsman uses cutting-edge technology to produce perfectly formed, slow-melting ice cubes that are perfect for a range of applications. From cocktail bars and restaurants to healthcare facilities and supermarkets, Scotsman's ice is the go-to choice for those who demand only the best. Scotsman's commitment to quality, reliability, and sustainability makes them the leading brand in the ice-making industry, trusted by professionals and consumers alike.
VIEW SCOTSMAN PRODUCT DOWNLOADS